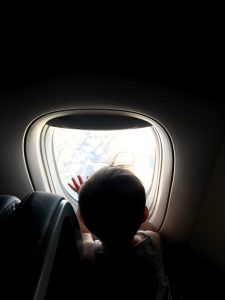 This is one of the most exciting yet most terrifying things to look forward to! When our daughter was 8.5 months old we went from San Francisco to Honolulu, Hawaii. It was only 5 hours plane trip each way but felt like 50! You can't blame a baby who most likely was misunderstood, can you?
We thought we got this under control but we found out we did some mistakes that we can avoid in our return trip and most importantly, a 14+ hour plane trip a week after to Istanbul, Turkey! So I will start by listing the mistakes we think we have done that made our first flight with a baby not very pleasant to us, parents:
We haven't booked our seats in advance.  my husband was 10 rows away from me and sat next to an old couple who, of course, wouldn't part. and to my aisle seat was a teenage couple who spent most of the trip kissing. We did not dare to ask any couple to move.
We packed too many toys to entertain miss Jenna on the trip. Two mosquito zappers that she transformed into toys, her favourite stories, teddy bear and other stuffed animals. We also rented an "iPad" on the plane to play some cartoons for her. Was she interested in any of what I mentioned? Nope. None.
We picked a travel time when Jenna is most active. Well, we did not pick this time, it just happened it was a time when she's playful and her usual exploring self. This resulted in an active baby in a plane. This isn't what parents hope for, is it?
We felt extremely overwhelmed but crew and passengers made it extremely easy on us! When I apologised for the teenage couple; the guy said: "No no it's ok, we're all going to Hawaii, we can't complain". Grandparents on the row behind me gave me their seats most of the trip and the grandma even took Jenna for 15 minutes that felts like 15 good hours *angel face*. Many passengers complemented Jenna and us at the end of the trip, few of them we even met a day later in Honolulu and they played with Jenna! With these mistakes and help; here are the ratings for the trip:
Parents rating: 7/10
Crew ratings (from appearance): 9/10
Passengers rating (from feedback): 10/10
Our return trip was by far much easier with 10/10 ratings from all views! Here is how we fixed our mistakes:
We booked our seats next to each other! with one seat in the middle, hoping no one would want to sit in between two people (Again, can't blame desperate parents!) Eventually, no one booked this seat and we had three seats for ourselves.
We have upgraded to a premium economy class! While this option is not available on many planes/trips, we're glad it was available on our return trip to San Francisco. It really made a huge difference, they were front seats with plenty of leg room, semi-reclining seats,  and closer to the exit!
All toys into checked-in baggage except one toy in the carry-on bags. It was the most entertaining toy but she did not even bother. She prefered flipping through the plane's magazines.
Our return trip was midday, it was naptime for our baby. She spent most of the time sleeping on two seats of the three available for us! Which was very convenient for us and everyone.
Bonus: Breastfeeding is a lifesaver!
I will write another post for our 14+ trip with 3.5 hours layover then almost 3 hours trip.