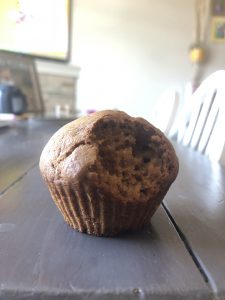 I can't tell you the number of times I tried to make the perfect muffins! This one is the winner! I'm confident enough to share it! The simplest ingredients, and man, I love when I don't use many bowls to mix ingredients. Most recipes would require you to mix wet ingredients in a bowl, then dry ingredients in a different bowl and mix them. If I can get away without an extra dirty bowl at the end of the day, I call it a success! I can't tell you enough how happy I am with this recipe. I found it on one of the recipes websites/blogs but changed a few things. Here's my version:
Ingredients
6 tablespoons unsalted melted butter.

½

cup

 sugar (I used 1/2 cup coconut sugar, but will test later with honey or stevia)

Finely grated zest from 1/2 a lemon
3/4 cup plain unsweetened yogurt

1

large egg

1 1/2 teaspoons baking powder
1/4 teaspoon baking soda
1/4 teaspoon fine sea or table salt
1 1/2 cups all-purpose flour
your choice of filling; l I used chocolate chips, seeds and raisins, and some of them were left plain.
Heat oven to 375°F (190°C). Either use silicon muffin/cupcake cups or spray tin cups with a nonstick spray.*
Start with butter in the bottom of a large bowl and whisk in sugar, zest, yogurt and egg until smooth. Whisk in baking powder, baking soda and salt until fully combined, then lightly fold in the flour. The batter will be very thick; it's ok. (You can add your choice if filling now, like berries or chocolate chips, but I added to each cup while spreading the batter into the cups.)
Divide batter between prepared muffin cups and bake for 25 to 30 minutes, until tops are golden and a tester inserted into the center of muffins comes out clean.
Enjoy!
*You can use paper liners, but I don't use them to reduce waste.